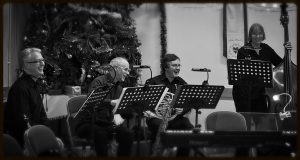 Why not have "Double Duos" provide music for your Christmas event to ensure that it has fun, laughter and a bit of nostalgia. Designed to get your celebrations off to a great start (or finish), we bring our unique brand of performance in a format of a concert or background music for a party/celebration/meal accompaniment.
You will find our rates to be very reasonable, and the whole process of working out what you would like is easy and informal.
We can bring music such as:
Jingle Bell Rock
Winter Wonderland
Rudolph, the Red Nosed Reindeer
Sleigh Ride
and, of course, White Christmas
as well as, our ever popular, repertoire of music from the Golden Age of Songs and Shows.